---
Books by and about 2020 presidential candidates
Crippled America,
by Donald J. Trump (2015)
United,
by Cory Booker (2016)
The Truths We Hold,
by Kamala Harris (2019)
Smart on Crime,
by Kamala Harris (2010)
Guide to Political Revolution,
by Bernie Sanders (2017)
Where We Go From Here,
by Bernie Sanders (2018)
Promise Me, Dad ,
by Joe Biden (2017)
Conscience of a Conservative,
by Jeff Flake (2017)
Two Paths,
by Gov. John Kasich (2017)
Every Other Monday,
by Rep. John Kasich (2010)
Courage is Contagious,
by John Kasich (1998)
Shortest Way Home,
by Pete Buttigieg (2019)
The Book of Joe ,
by Jeff Wilser (2019; biography of Joe Biden)
Becoming,
by Michelle Obama (2018)
Our Revolution,
by Bernie Sanders (2016)
This Fight Is Our Fight,
by Elizabeth Warren (2017)
Higher Loyalty,
by James Comey (2018)
The Making of Donald Trump,
by David Cay Johnston (2017)
Books by and about the 2016 presidential election
What Happened ,
by Hillary Clinton (2017)
Higher Loyalty ,
by James Comey (2018)
Trump vs. Hillary On The Issues ,
by Jesse Gordon (2016)
Hard Choices,
by Hillary Clinton (2014)
Becoming ,
by Michelle Obama (2018)
Outsider in the White House,
by Bernie Sanders (2015)
---
Book Reviews

(from Amazon.com)

(click a book cover for a review or other books by or about the presidency from Amazon.com)
And I Haven't Had a Bad Day Since
From the Streets of Harlem to the Halls of Congress,
by Rep. Charles Rangel & Leon Wynter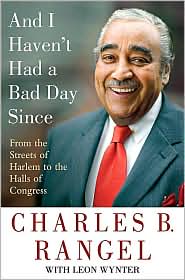 (Click for Amazon book review)
Click on a participant to pop-up their full list of quotations
from Bad Day Since, by Rep. Charles Rangel (number of quotes indicated):
BOOK REVIEW by OnTheIssues.org:
Rep. Charles Rangel, the US Representative from Harlem, New York City, appeals to the reader as just a regular guy. He tells us in this book of his modest beginnings in a poor Manhattan neighborhood; of his military awards as a Sergeant in Korea; and of his working his way through law school.
Rep. Rangel seems to love serving in the House. He writes with relish of his ambitions to chair House committees, and his accomplishments once he achieves those posts. The framing device of the book is that each episode concludes with "And I haven't had a bad day since." Readers may wonder if Rangel might try for Hillary Clinton's open Senate seat -- it seems unlikely, if the attitude he presents here is at all true -- he just enjoys being where he is, and living the adventure he has lived.
There are plenty of anecdotes about rubbing elbows with the politically powerful -- including claiming to be the first to suggest to Hillary Clinton that she run for the New York Senate seat. Rangel omits discussing the ethics investigations he is currently undergoing (the book was written in Nov. 2006; the investigations didn't start until mid-2008; but the investigated events did occur before the book's publication). The ethics investigations include paying below-market rent for several Manhattan apartments; failing to report rental income from abroad; and improper use of House perqs such as Congressional letterhead and a Congressional parking space. It's unclear at this time how the ethics investigations will be resolved.
-- Jesse Gordon, jesse@OnTheIssues.org, December 2008
Post-script June 2014: Rangel survived his ethics investigations, with a Congressional censure in 2010 and some severe political damage. As a result of the censure, Rangel resigned as chair of the House Ways and Means Committee, a powerful post, and has not regained the chairmanship since. Perhaps as a result of the scandal, Rangel faced a serious primary challenge in June 2012, from Adriano Espaillat; Rangel won by fewer than 1,000 votes. Espaillat came back for a rematch in June 2014, and again Rangel narrowly won, but promised this time that 2015-2016 would be his last term in office.
-- Jesse Gordon, jesse@OnTheIssues.org, June 2014
OnTheIssues.org excerpts: (click on issues for details)
Budget & Economy
Newt Gingrich: 1995 budget: cut taxes, regulations, & spending.
Civil Rights
Charles Rangel: GOP competing for black votes makes both parties responsive.
Mario Cuomo: Preferred color-blind appointments to high positions.
Drugs
Charles Rangel: 1970s: Treat drug addiction as crisis: interdict at border.
Charles Rangel: Worked with Pres. Nixon to begin "War on Drugs".
Foreign Policy
Charles Rangel: 1987: Rangel Amendment forced South African divestment.
Charles Rangel: 1994: Advised Haiti's Aristide; disappointed by no democracy.
Free Trade
Charles Rangel: World Bank exerts US influence as first among unequals.
Charles Rangel: 1980s: Caribbean Basin Initiative: lower tariff barriers.
Charles Rangel: Supports Chinese trade; African trade; and Caribbean trade.
George W. Bush: Linked trade agreements to participation in Iraq War.
Government Reform
Charles Rangel: GOP majority holds secret meetings for final bill drafting.
Charles Rangel: 1974: On Watergate Committee, focused on Nixon's conviction.
Charles Rangel: It's obscene what money has done to Congress.
Homeland Security
Charles Rangel: 1951: Wounded in Korea while army was desegregating.
Richard Nixon: OpEd: Used national security as alibi to protect cronies.
Immigration
Charles Rangel: Africans didn't immigrate to fulfill the American dream.
Principles & Values
Al Sharpton: On black voting bloc: "A choir is made up of many voices".
Charles Rangel: Attitude of gratitude: I haven't had a bad day since.
Charles Rangel: Black folks are very conservative in some ways.
Charles Rangel: 1970s: Ran for Congress on both Republican & Democrat lines.
Charles Rangel: Prefers small constituency of House seat.
Charles Rangel: Early ambition to chair Ways & Means Committee.
Charles Rangel: 1971: Co-founded the Congressional Black Caucus.
Charles Rangel: Initiated idea of Hillary running for Senate in New York.
George W. Bush: OpEd: Encroaches civil liberties, Constitution, & democracy.
Hillary Clinton: Enthusiastic when Rep. Rangel suggested NY Senate race.
Jimmy Carter: OpEd: ignored Congress since his mandate was from the people.
Rev. Jesse Jackson: OpEd: 1984 candidacy forced Dems to openly court black vote.
Rev. Jesse Jackson: A tree shaker, not a jelly maker.
Social Security
Charles Rangel: Social Security isn't bankrupt; no need to privatize.
Tax Reform
Charles Rangel: Zeal for capital gains & wealthy tax cuts is unparalleled.
Charles Rangel: Estate tax only reaches estates over $100M; don't cut it.
Ronald Reagan: 1985 State of the Union speech: cut taxes; slash spending.
War & Peace
Charles Rangel: Reinstitute draft to avoid another Iraq.
Charles Rangel: Troops suffer by not knowing when they'll come home.
Charles Rangel: 2003: Lonely voice opposing pre-emptive war.
Charles Rangel: Opposed Kerry in 2004 primary because Kerry voted for war.
Charles Rangel: Morally suspect war in Iraq is funded by deficit.
Charles Rangel: Opposes war politically, out of respect for soldiers.
Welfare & Poverty
Charles Rangel: Make taking people out of poverty our #1 priority.
| | |
| --- | --- |
| Click for quotations from other sources by: | |
The above quotations are from And I Haven't Had a Bad Day Since
From the Streets of Harlem to the Halls of Congress,
by Rep. Charles Rangel & Leon Wynter.