Defense: Defense spending, weapons planning, and other military issues.
---
Syrian Civil War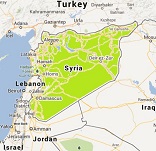 The civil war in Syria has been raging since March 2011, and has killed many tens of thousands of people (approximately 93,000 as of June 2013). It is the latest result of the Arab Spring.

In 2011, the Arab Spring was running strong in several countries but has mostly played out now -- except in Syria. At issue is whether President Assad (a dictator, not an elected president) should stay in power. Two years ago, at issue was whether Assad would implement reforms, but he declined, so the rebels demanded his ouster instead.

The rebels were making progress until Hezbollah joined in, early in 2013 (Hezbollah is the terrorist group that rules Lebanon with Assad's help) -- that turned the tide in favor of Assad.

President Obama had previously established a "red line" that if Assad used chemical weapons, the U.S. would join the fight. Obama declared that the "red line" had been crossed in June 2013. The US, British and French had been aiding the rebels already, but only been sending "humanitarian aid" (food and medicine); as of June 2013 the US is sending "military aid" (small weapons). The Russians back Assad (who has plenty of Russian weapons already, including jets and tanks). So in effect, the U.S. is now fighting a "proxy war" against Russia and Hezbollah in Syria.

Some proponents suggest that the US, UK, and France impose a "no-fly zone" in Syria -- using allied Air Forces to enforce agaisnt the Syrian Air Force. That was done in Libya successfully -- the rebels won with allied air support.

Some opponents point out that the rebels' loose coalition -- called the Free Syrian Army -- has some groups which are affiliated with Al Qaeda. U.S. aid has always "vetted" each group receiving aid, with the purpose of avoiding giving anything to Al Qaeda. But of course materiel gets shared and some U.S. arms may end up in Al Qaeda hands.
---
The War on Terrorism