Justice John Roberts




Previous Occupation: Age: 50
Graduated from: Harvard Law School.
He clerked for: Judge Henry Friendly, Chief Justice William Rehnquist.
He used to be: associate counsel to the president for Ronald Reagan, deputy solicitor general for George H.W. Bush, partner at Hogan & Hartson.
He's now: a judge on the U.S. Court of Appeals for the D.C. Circuit.

Source:Emily Bazelon and David Newman, Slate.com

For further information: Wikipedia article

Further contact information for John Roberts:
No further contact information available.
---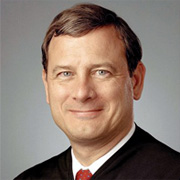 OnTheIssues.org is a reporting service dedicated to providing coverage on the issues.
OnTheIssues.org has no contact with candidate campaigns.
All available contact information is provided above