In Our Defense
The Bill of Rights in Action
by Caroline Kennedy and Ellen Alderman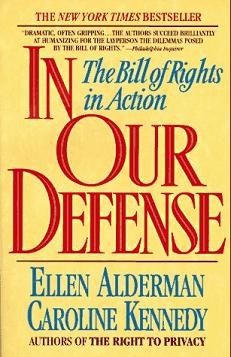 (Click for Amazon book review)
Click on a participant to pop-up their full list of quotations
from In Our Defense, by Caroline Kennedy (number of quotes indicated):
Caroline Kennedy (2)
OR click on an issue category below for a subset.
OnTheIssues.org excerpts: (click on issues for details)
Civil Rights
Caroline Kennedy: Free speech includes distasteful speech such as flag-burning.
Government Reform
Caroline Kennedy: Bill of Rights most comprehensive individual protection ever.
| | |
| --- | --- |
| Click for quotations from other sources by: | |
The above quotations are from In Our Defense
The Bill of Rights in Action
by Caroline Kennedy and Ellen Alderman.
Books by and about Cabinet Members:
Page last edited: Feb 09, 2014