Party:
Republican
Born:
February 4, 1947, in Indianapolis, Indiana.
Family:
Wife - Marilyn
Children - Tucker, Benjamin, and Corinne.
They reside in Paradise Valley, Arizona.
Religion:
Military:
Indiana National Guard, 1969-75.
Web Site:
Quayle2000.com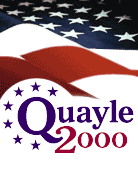 Education:
B.A. in Political Science, DePauw University (1969).
Law degree from Indiana University (1974).
Professional Experience:
Chairman of Campaign America (1995-1998), a national political action committee, where he was a fundraiser for Republican candidates, party organizations, and numerous charities.
Chairman of the Competitiveness Center of the Hudson Institute.
Investigator for the Consumer Protection Division of the Indiana Attorney General's Office
Administrative assistant to Governor Edgar Whitcomb
From 1973-74, he was the Director of the Inheritance Tax Division of the Indiana Department of Revenue
Upon receiving his law degree, Mr. Quayle worked as associate publisher of his family's newspaper, the Huntington Herald-Press, and practiced law with his wife in Huntington.
Author of a best-selling memoir, Standing Firm, about his term as Vice President.
Author of The American Family: Discovering the Values that Make Us Strong, (1996).
Political Experience:
Vice President of the United States under President Bush, 1989-93
In 1980, at age 33, Mr. Quayle became the youngest person ever elected to the US Senate from the State of Indiana, defeating three-term incumbent Democrat Birch Bayh.
In 1976, Mr. Quayle was elected to the US Congress from Indiana's Fourth Congressional District, defeating an eight-term incumbent Democrat.

(click a book cover for a review or other books by or about Quayle from Amazon.com)