Party:
Democrat
Born:
July 28, 1943, in Crystal City, Missouri, the only child of Warren and Susan Bradley, a banker and a schoolteacher. The Bradleys lived a comfortable, middle-class life in a small, blue-collar company town on the banks of the Mississippi River, thirty-six miles south of St. Louis.
Family:
Bradley is married to the former Ernestine Schlant, a professor of German and Comparative Literature at Montclair State University in New Jersey.
They have one daughter and Mrs. Bradley has an adult daughter from a previous marriage.
Schlant most recently authored The Language of Silence, a study of German literature's reaction to the Holocaust.
Religion:
Presbyterian
Military:
Joined the Air Force Reserves, based at McGuire AFB in Wrightstown, NJ. He served on active duty for nearly six months in 1967.
Web Site:
BillBradley.com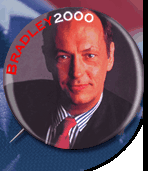 Education:
Rhodes Scholar at Oxford University; graduate degree in politics, philosophy and economics.
Graduated from Princeton University in 1965 with a degree with honors in American history.
Matriculated but never attended Duke University in North Carolina on an athletic scholarship.
Professional Experience:
Authored Values of the Game in 1998, expressing lessons learned from the sport of basketball.
Authored Time Present, Time Past in 1996, a memoir about life as a senator and his travels.
Authored Life on the Run in 1976, chronicling his experiences in the NBA.
Played basketball professionally for the New York Knicks (1967-77), winning two NBA championships (1970, 1973) as the team's starting forward.
Political Experience:
Bradley represented New Jersey in the US Senate from 1978 to 1997.
Bradley's legislative accomplishments included the 1986 Tax Reform Act, the Family and Medical Leave Act, and Megan's Law.
His focus as a Senator included more money for college loans, economic empowerment zones, and protecting children from the dangers of tobacco.
Bradley served as an intern in the early 1960s in the congressional office of Richard Schweiker (R-Pa.) and then on the presidential campaign of former Pennsylvania Governor William W. Scranton.

(click a book cover for a review or other books by or about Bradley from Amazon.com)