This Moment On Earth, by Teresa and John Kerry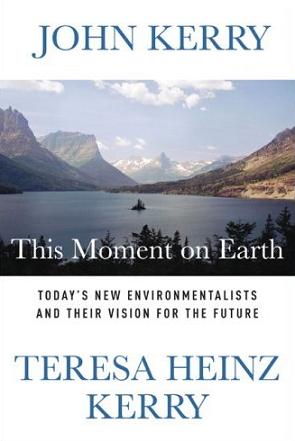 (Click for Amazon book review)
Click here for 2 full quotes from John Kerry in the book This Moment on Earth.
OR click on an issue category below for a subset.
BOOK REVIEW by OnTheIssues.org:
This book begs the question, "Why should I read this instead of Al Gore's book?" OnTheIssues can find no compelling reason why one would prefer Kerry's environmental analysis to Gore's Inconvenient Truth. Gore has been at it longer, is recognized as a leader in the field, and won an Oscar for the movie in 2007. One must assume that Kerry is attempting to position himself as the next Al Gore -- the next political environmentalist -- when Al Gore moves on to something else. But Kerry will need 20 years under his belt before he has Gore's authority on the subject. More importantly, Gore pushed the envelope on the issue -- putting his reputation at risk by predicting harsh consequences before they became obvious, and advocating a strong position before it became popular. Kerry's book does not push the envelope.
Kerry's style in this book is not advocacy, but more like presentation of the current situation. The book reads like a popularization of the issues. It's a good popularization--explaining complex issues with concrete examples, and explaining the historical background of the problem and the politics of the solution. And there's certainly room for more than one book on the politics of global warming. But Kerry's role as a leader is to advocate and push a solution, not just to explain the problem. Kerry does take positions in this book--but they're buried in the long explanations (we excerpt them, of course). And we catch ourselves in this criticism too, because popularizations are important -- and when a major Senate figure like Kerry does the explaining, perhaps more people are likely to read it.
-- Jesse Gordon, jesse@OnTheIssues.org, May 2007
OnTheIssues.org excerpts: (click on issues for details)
Energy & Oil
Global Warming as "hoax" is funded by Big Oil & GOP.
Environment
Minority communities more likely polluted than white areas.
| | |
| --- | --- |
| Click for quotations from other sources by: | |
The above quotations are from This Moment On Earth, by Teresa and John Kerry.
Related books, debates, and candidates: