Secretary of State Colin Powell


Official Web Site: http://www.state.gov


Previous Occupation: Powell was the chairman of America's Promise - The Alliance for Youth, a national nonprofit organization. Powell was a professional soldier for 35 years, during which time he held myriad command and staff positions and rose to the rank of 4-star General.

Previous Office: Chairman of the Joint Chiefs of Staff, the highest military position in the Department of Defense. Following his retirement, Secretary Powell wrote his best-selling autobiography, My American Journey.

Education: Educated in the NYC public schools, graduating from the City College of New York (CCNY), where he earned a bachelor's degree in geology. Master of Business Administration degree from George Washington University.

Birth: Apr 5, 1937, New York City

Spouse: Married to the former Alma Vivian Johnson of Birmingham, Alabama. The Powell family includes son Michael; daughters Linda and Anne; daughter-in-law Jane; and grandsons Jeffrey and Bryan.

Interests: His parents, Luther and Maud Powell, immigrated to the United States from Jamaica.

For further information: Wikipedia article

Further contact information for Colin Powell:
No further contact information available.
---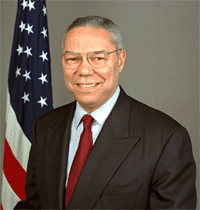 OnTheIssues.org is a reporting service dedicated to providing coverage on the issues.
OnTheIssues.org has no contact with candidate campaigns.
All available contact information is provided above