---
Books by and about 2020 presidential candidates
Crippled America,
by Donald J. Trump (2015)
United,
by Cory Booker (2016)
The Truths We Hold,
by Kamala Harris (2019)
Smart on Crime,
by Kamala Harris (2010)
Guide to Political Revolution,
by Bernie Sanders (2017)
Where We Go From Here,
by Bernie Sanders (2018)
Promise Me, Dad ,
by Joe Biden (2017)
Conscience of a Conservative,
by Jeff Flake (2017)
Two Paths,
by Gov. John Kasich (2017)
Every Other Monday,
by Rep. John Kasich (2010)
Courage is Contagious,
by John Kasich (1998)
Shortest Way Home,
by Pete Buttigieg (2019)
The Book of Joe ,
by Jeff Wilser (2019; biography of Joe Biden)
Becoming,
by Michelle Obama (2018)
Our Revolution,
by Bernie Sanders (2016)
This Fight Is Our Fight,
by Elizabeth Warren (2017)
Higher Loyalty,
by James Comey (2018)
The Making of Donald Trump,
by David Cay Johnston (2017)
Higher Loyalty ,
by James Comey (2018)
Trump vs. Hillary On The Issues ,
by Jesse Gordon (2016)
Outsider in the White House,
by Bernie Sanders (2015)
---
Book Reviews

(from Amazon.com)

(click a book cover for a review or other books by or about the presidency from Amazon.com)
CBS "Face the Nation" interviews during 2019
(Margaret Brennan interviewing candidates for 2019-20 races)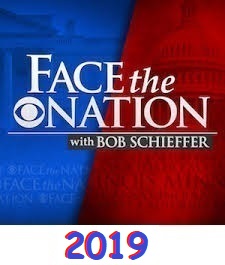 (Click for external website)
Click on a participant to pop-up their full list of quotations
from CBS "Face the Nation" interviews during 2019 (number of quotes indicated):
A long-standing political tradition is the Sunday morning talk show, beginning with "Meet the Press" in 1947. Currently, five separate "talking head" programs appear on five different TV stations every Sunday morning. OnTheIssues.org excerpts all five of the shows, listed below, with their respective interviewing pundits and each pundit's political affiliation:
ABC This Week: (Martha Raddatz & George Stephanopoulos; liberal; from Bill Clinton's staff)
CNN "State of the Union": (Jake Tapper and Dana Bash; moderate liberal)
Fox News Sunday: (Chris Wallace and Bret Baier; conservative)
Meet the Press: (Chuck Todd; moderate)
CBS Face the Nation: (Margaret Brennan and John Dickerson; moderate)
OnTheIssues.org excerpts: (click on issues for details)
Abortion
Kirsten Gillibrand: Democratic candidates must support reproductive freedom.
Budget & Economy
Beto O`Rourke: Farmers want markets, not subsidies.
Corporations
Elizabeth Warren: Use anti-trust to break up anti-competitive businesses.
John Hickenlooper: Market must allow entry to new businesses.
Julian Castro: Top earners & corporations must pay fair share.
Free Trade
Michael Bennet: Chinese trade practices unfair, but tariffs not the answer.
Government Reform
Michael Bennet: Congress must investigate Russian election tampering.
Health Care
Cory Booker: Public option is first step, negotiate lower drug prices.
Rick Scott: Enact law so drug prices in US aren't higher than Europe.
Kirsten Gillibrand: Provide a public option to get to universal coverage.
Homeland Security
Eric Swalwell: Russian attack on 2016 elections must be taken seriously.
Immigration
Beto O`Rourke: Those seeking asylum pose no threat.
Kirsten Gillibrand: For border security, but don't harm asylum seekers.
Cory Booker: Intervene in refugees' home countries; reform asylum process.
Jay Inslee: Illegal immigration not a national emergency.
Kirsten Gillibrand: Pathway to citizenship for DREAMers.
Julian Castro: Compassion for refugees, pathway for those here.
Jobs
Tim Ryan: Public/private partnership to rebuild manufacturing base.
War & Peace
Beto O`Rourke: End war in Afghanistan; even work with Taliban.
Beto O`Rourke: Default should be to pursue peace, not war.
| | |
| --- | --- |
| Click for quotations from other sources by: | |
The above quotations are from CBS "Face the Nation" interviews during 2019
(Margaret Brennan interviewing candidates for 2019-20 races).
Related interviews from Sunday morning talk shows:

2019 Sunday pundit shows (2019 Senate races and 2016 presidential preparation):