Roll Call e-magazine coverage and analysis of 2014 campaigns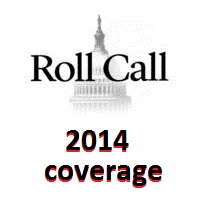 (Click for external website)
Click on a participant to pop-up their full list of quotations
from RollCall 2014 (number of quotes indicated):
Error processing SSI file
OnTheIssues.org excerpts: (click on issues for details)
Budget & Economy
Larry Pressler: Pay a little more taxes & give up some programs.
Civil Rights
Larry Pressler: Supports gay marriage.
Energy & Oil
Roy Blunt: Every GOP Senator wants Keystong XL pipeline.
Government Reform
Roy Blunt: Executive Orders bypass Congress and the Constitution.
Roy Blunt: More government creates inequality crisis of opportunity.
Health Care
Dan Sullivan: AdWatch: Washington is broken; including ObamaCare.
Immigration
Larry Pressler: 5-year path to citizenship for illegal immigrants.
Principles & Values
Larry Pressler: Former three-term Senator; ran for president in 1980.
Jim Oberweis: Milk Dud: poured dairy fortune into 5 failed campaigns.
Bernie Sanders: Lost campaigns in 1972, 1974 & 1988 before winning in 1990.
Colleen Hanabusa: Lost campaigns in 2003 & 2006 before winning in 2010.
Paul Broun: Lost campaigns in 1990, 1992 & 1996 before winning in 2006.
Steve Stockman: Lost campaigns in 1990 and 1992 before winning in 1994.
Tom Udall: Lost campaigns in 1982 and 1988 before winning in 1998.
John Walsh: Appointed to Senate while running in Senate primary.
Larry Pressler: Non-conventional independent campaign to influence debate.
Larry Pressler: 1978: first Vietnam veteran elected to the Senate.
Tax Reform
Larry Pressler: Raise taxes on estates worth more than $10 million.
Welfare & Poverty
T.W. Shannon: AdWatch: Success comes from hard work, not handouts.
Roy Blunt: Obama's "Year of Action" on poverty is "more of the same".
| | |
| --- | --- |
| Click for quotations from other sources by: | |
The above quotations are from Roll Call e-magazine coverage and analysis of 2014 campaigns. Error processing SSI file

Page last edited: Sep 16, 2014